The great thing about this recipe is that if you have some picky eaters, you can make custom packets… but in our house we have a "you pick" rule for things like this… meaning you pick around what you don't like… sorry Aunt Lou ;P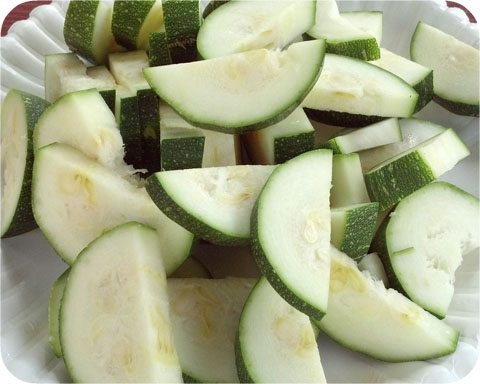 I chopped up one large zucchini
1 large green bell pepper- chopped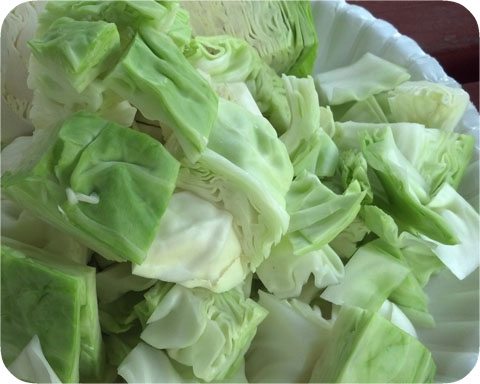 1 small head of cabbage… you guessed it, chopped. Notice a trend yet?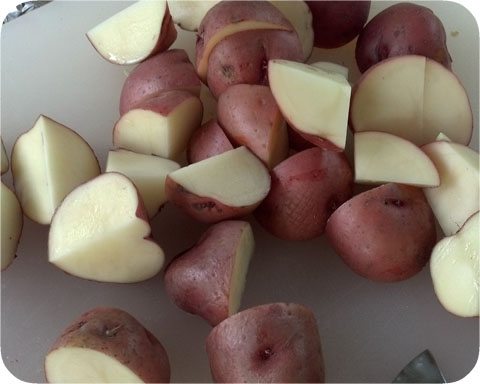 Red potatoes… 6 or so- quartered.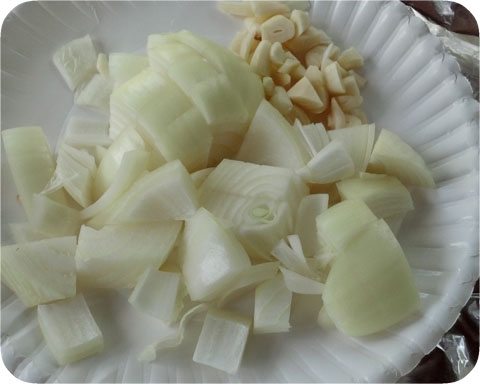 1 large onion and 6 cloves garlic– again, chopped.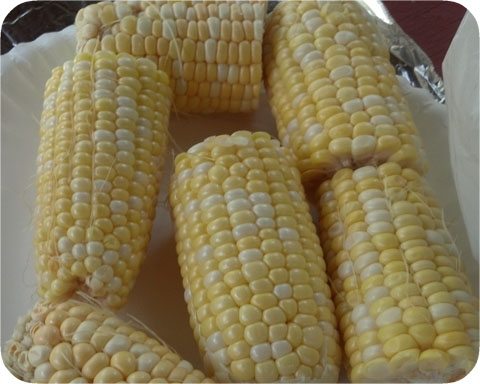 3 ears of corn cut in half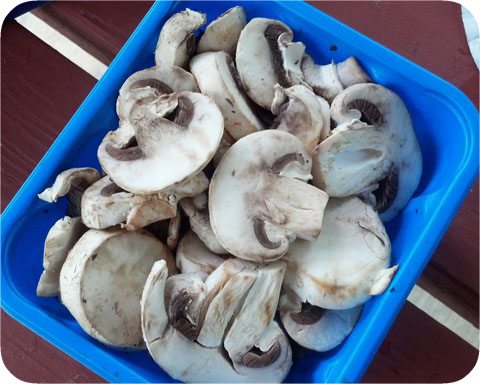 8 oz sliced mushrooms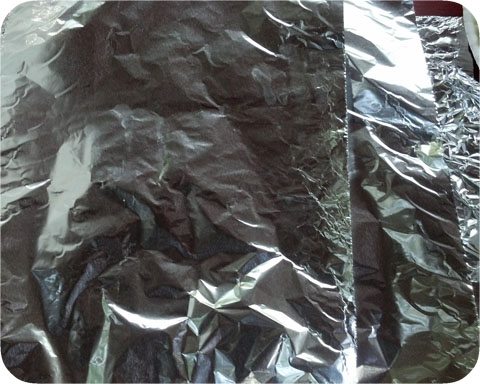 Then take two large strips of foil and lay them down. You are going to want to make enough room to close it up after you put all the food in. Don't worry if you misjudge… it isn't nice to be all judgey anyways now is it

You can always add more foil.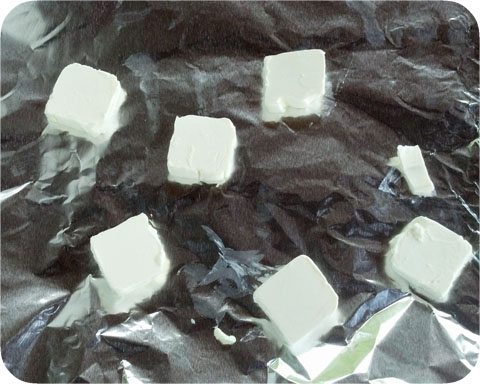 Add 1/2 stick of butter to the foil… sliced into pieces.
Add a pound of chicken tenders (note– 1/2 lb shown here… adjusting recipe because it needed more chicken).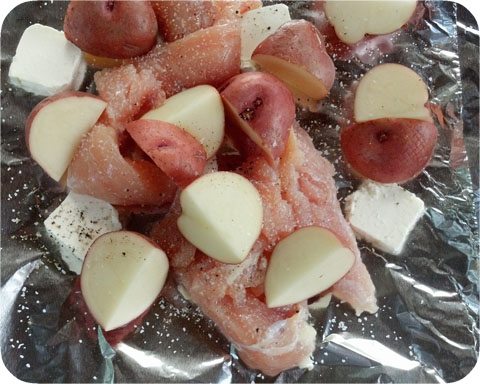 Add potatoes to taste and season well.
NOTE: All veggie amounts added at this point are up to your personal taste. I split my veggies evenly between two packets.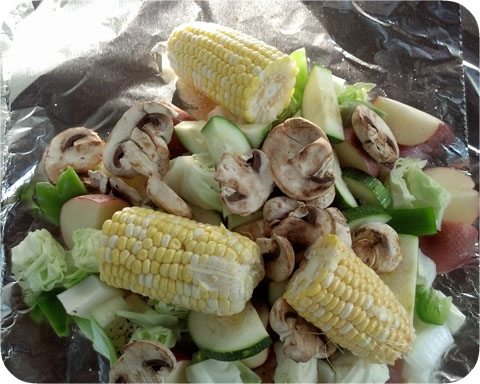 Pile on your veggies and season well again.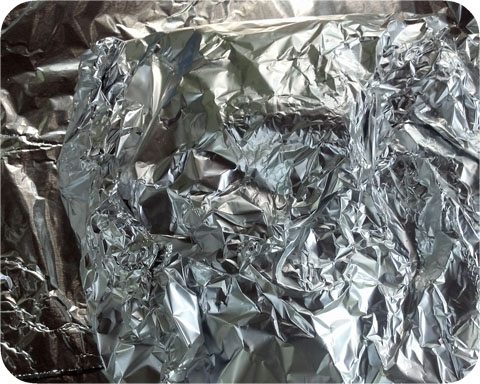 Close up foil and add more as needed to make packet water-tight– just make sure to remember which side of the packet the butter and chicken are on.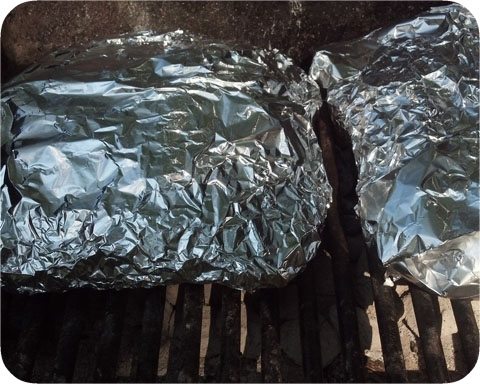 Place your grate down on the coals and place foil packets chicken side down.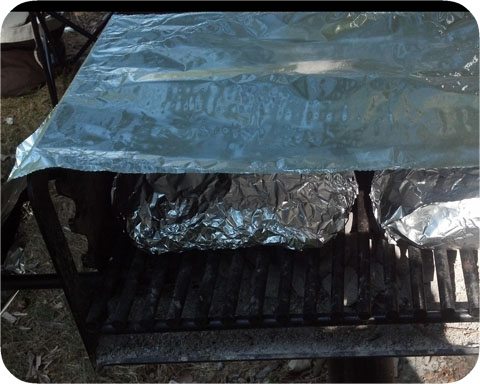 Use extra foil to cover top of grill if it does not have a hood. Grill chicken side down for 20 minutes, flip and cook for 10 more minutes.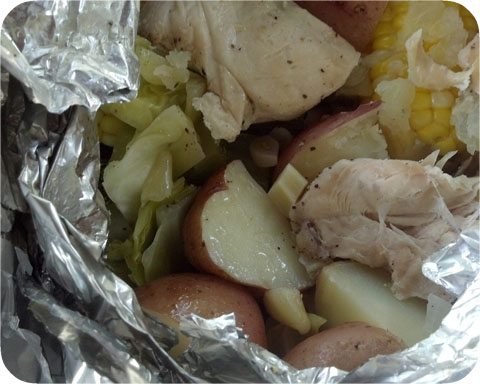 Pull the packets from the grill and check the chicken side to make sure chicken is done and veggies are tender.
Ring the dinner bell and watch out as they dig in!